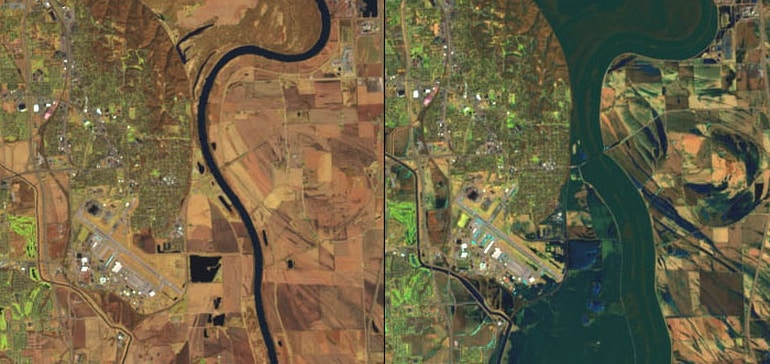 Flooding In The Midwest Causes Major Disruptions
Railroads Flooded
Snow melt and consistent rain has led to record breaking flooding all along the Missouri river.  The flooding has crippled the midwestern U.S. supply chain, more specifically railroads.  Both BNSF and Union Pacific are facing numerous interruptions in the region with limited rerouting options.  A recent report from BNSF stated that they are working on repairs, but the extent of the flooding along with more to come means the lapse in service could be prolonged in some locations.
Therefore, with railroad shipping in the region crippled for the time being it is important to consider alternative routing for your supply chain.  Additionally, along with railroads being affected by the weather, parts of I-80 from Wyoming into Nebraska have been closed as well.  The flooding is forecasted to intensify as snow melt from the Dakotas and northern regions of Iowa, Nebraska and Missouri flow south into the region.
Agriculture In Trouble
Amidst the U.S. and China trade war, farmers have opted to store crops from their 2018 harvests.  The part of the country affected by the flooding is unfortunately also a major center for U.S. grain production.  The record-breaking flooding that is occurring in Nebraska alone is estimated to cause nearly $1 billion in lost crops and livestock.
As a result, the Nebraska Farm Bureau has established a disaster relief fund for the farmers and rural communities of the state.  If you find yourself at an inclination to donate, then please visit https://www.nefb.org/get-involved/disaster-assistance.
Additionally, flooding problems are expected to persist longer for downstream communities where the Missouri River valley ties into the Mississippi River.  With the confluence of the Ohio, Missouri and Mississippi Rivers all within the areas being impacted by heavy rainfall, higher river levels are forecasted down the Mississippi.  Barge freight could also expect to see restrictions as this occurs.
BM2 Freight Services, Inc.
Phone: (859) 308-5100
Email: Sales@BM2Freight.com
https://www.bm2freight.com/wp-content/uploads/2019/03/3.25.19-1.jpg
364
770
Lori Rinehart
https://www.bm2freight.com/wp-content/uploads/2023/01/BM2-WebLogo-Transparent-Final.png
Lori Rinehart
2019-03-25 15:21:26
2023-02-03 20:19:23
Flooding In The Midwest Causes Major Disruptions