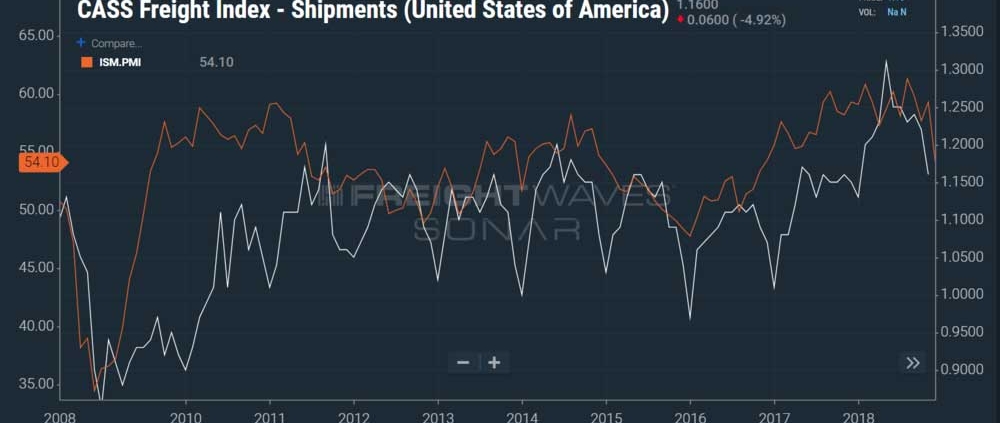 Supply Chain Slow-Down On The Horizon
PMI & Cass Freight Index Trend Downward
The relationship between the economy and supply chain is commonly misunderstood. In order to gain a full understanding of this complicated correlation, it is important to pay attention to valid macroeconomic studies. The Purchasing Managers' Index (PMI)—which looks at U.S. economic health—and the Cass Freight Shipment Index—which measures freight volume in the United States—are two closely correlated studies to use in forecasting the supply chain.
During November 2018, the PMI dropped to a value of 54.1, the lowest since January of 2018, which indicates a possible economic slow-down for the start of 2019. Furthermore, when analyzing the PMI next to the Cass Freight Shipment Index, there is a correlation between the two. The Cass Freight Shipment Index dropped 5% in November of 2018, the lowest value since January of 2018. In conclusion, the correlation is that aside from outlier scenarios, like the 2008-2010 economic recovery, the general economic health of the U.S. and supply chain/freight market are closely correlated.
Therefore, when you are planning your 2019 supply chain, make sure to analyze macroeconomic studies to gain a better understanding of the current freight market. As economic health and freight volume declines, plan to spend less on freight, and vice versa. However, there are many outside variables that play a large role in the supply chain as well.
Current Events Affect Supply Chain
To gain a comprehensive understanding of the supply chain, not only is it important to analyze macroeconomic indexes like the PMI and Cass Freight Shipment Index, but it is also important to understand current events in relation to the supply chain.
The 90-day U.S. & China tariff war reaches another head in March of 2019. Tariff hikes will, in short, drive business away from China, but also cause a steep increase in supply chain costs initially. Additionally, the government shutdown is significantly affecting U.S. ports and air freight (read more here). With roughly 25% of U.S. government employees in furlough, sea and air freight are experiencing an impending bottleneck of paperwork ultimately affecting the timeliness of shipments and shipment security.
BM2 Freight Services, Inc.
Phone: (859) 308-5100
Email: Sales@BM2Freight.com
https://www.bm2freight.com/wp-content/uploads/2019/01/1.21.19.jpg
444
1000
Lori Rinehart
https://www.bm2freight.com/wp-content/uploads/2023/01/BM2-WebLogo-Transparent-Final.png
Lori Rinehart
2019-01-21 15:14:10
2023-02-03 20:19:57
Supply Chain Slow-Down On The Horizon