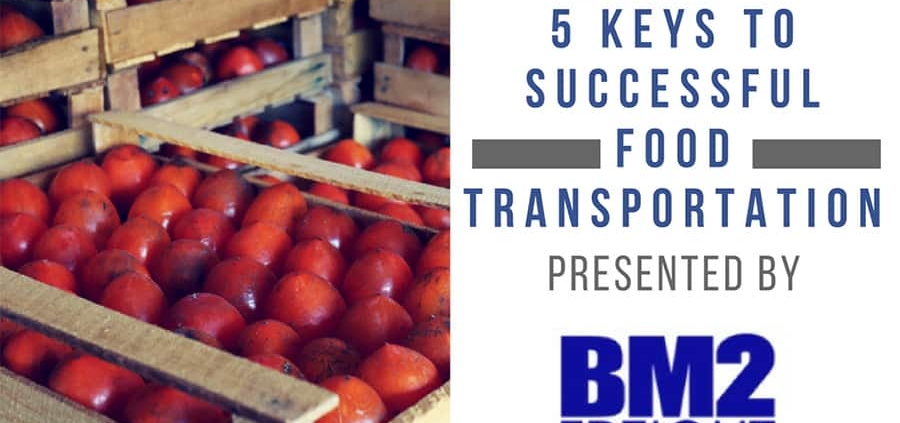 5 Keys To Successful Food Transportation
5 Keys to Successful Food Transportation
Matt Mason Shares Educational Webinar
BM2 Freight's Matt Mason has been involved in food transportation for years, and he recently offered his expertise in a food transportation webinar presented on July 12 and July 20, 2017 (available below). BM2 Freight moves food for a number of Fortune 500 companies — restaurants, grocery chains, and producers; and they transport it all over the country. Here is a synopsis of Matt's webinar:
Food Safety Is Primary
The Food Safety Modernization Act that went into effect in April 2017 enshrines into law the best practices that ought to obtain throughout the industry. Food shippers should look for a 3PL with a culture of food safety, one that really understands the law's requirements and can manage multiple carriers on your behalf. A good 3PL is your compliance manager; it frees up your organization to continue doing what it does best, while the 3PL tracks KPIs designed to protect your food.
Customized Transportation Solutions
Matt stresses that conducting in-depth and detailed discovery meetings with the client allows the 3PL to tailor delivery solutions. The 3PL ought to hold quarterly meetings with the customers in order to review what's worked and what needs improvement, as well as plan together for the future. In order to fully benefit from this opportunity, the shipper needs to really commit to a particular 3PL, so that they begin to develop synchronicity.
Operational Excellence is a Must
Technology should be used to cater to the particular demands of food transportation. That means the TMS can be configured to assure compliance every step (or mile) of the way. Temperature control should be easily accessed and monitored. Operational excellence also appears in how a 3PL manages its carrier network. Top-notch qualifications and repeat usage, along with understanding the shipper's method of analysis (is it cost per mile or cost per pound?) create a synergy among the shipper, the 3PL, and the carriers. Customer service and a dedicated headcount matter too. The 3PL functioning with a high level of operational excellence becomes an extension of the supply-chain group, offering strategic rather than transactional service.
Food Specialization and Experience Matters
Transporting food is much more demanding and exacting than standard shipping. It's important to work with a 3PL that understands that seasonality drives capacity, for instance, or that perishable items make timing crucial. Does the 3PL have an operational crisis management team? Is there a proven ability to save loads? Look for 3PLs that already work with restaurants, grocery stores, producers, and farmers; they will be able to do the work without the learning curve.
Cultivate a Culture of Respect
An organization that treats its customers and its carriers with respect runs smoothly. Obviously, food safety has to be integral to the 3PL's business, and that should appear in its leadership team. It should be clear that people of integrity are in charge. The 3PL ought to own problems and mistakes, be proactive rather than reactive and be flexible. It ought to offer decent compensation and merit-based advancement; that will lead to low turnover. This kind of people-oriented business means that there are no "boiler-plate" operations; every shipper is unique, and every carrier is valued.
At BM2 Freight, We Connect Great Shippers With Great Carriers
For the whole webinar, including the questions and answers, click here.
https://www.bm2freight.com/wp-content/uploads/2017/10/10.31.17.jpg
675
900
Lori Rinehart
https://www.bm2freight.com/wp-content/uploads/2023/01/BM2-WebLogo-Transparent-Final.png
Lori Rinehart
2017-10-31 14:43:05
2023-02-03 20:19:58
5 Keys To Successful Food Transportation