Logistics industry market trends you need to know.
General Market Trends

Potential Market Disruptors
Port Impacts:
US ports are trending to have a 12.8% year-on-year drop in TEU.
US ports are estimated to 1.99 million TEUs in Oct and will see a decline in Nov and December to 1.92 million TEUs.
Volumes continue to dip throughout all U.S. ports causing challenges for both shippers and carriers.
Seasonal Trends:
Christmas Trees throughout the northwest and other areas.
Florida winter deals begin with peppers, squash, cucumbers, lettuce, and tomatoes.
Mexican cucumbers, cantaloupes, and honeydews starting.
Amazon, FedEx, and UPS peak season continue as well as the final holiday push.
Transportation Events:
Transport Topics Live Nov. 15th – 17th
Upcoming Holidays:
Thanksgiving (Thursday, November 23)
Christmas (Monday, December 25)
New Years (Monday, January 1)
Weather Impact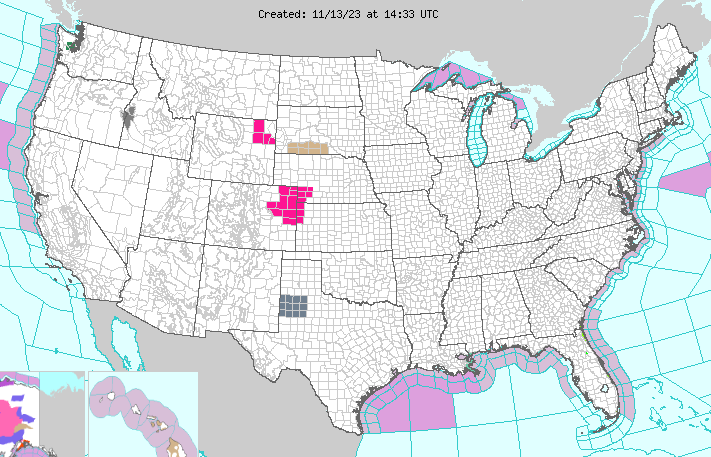 The Gulf: A storm system developing offshore of southern Texas will move gradually east across the northern Gulf of Mexico over the next few days, and this will bring a swath of moderate to locally heavy rain for portions of the drought-stricken Gulf Coast states. Given the very dry antecedent conditions, these rains will be very beneficial in nature and there may be locally a few inches of rain that falls. Any flooding concerns should be minimal and generally confined to the more urbanized locations. The clouds and rain will also keep temperatures rather cool, and many areas from southern Texas eastward across the Gulf Coast will see temperatures below normal.
Pacific Northwest and Rockies: A cold front crossing the Pacific Northwest will advance east across the Northern Rockies by Tuesday before gradually stalling out over parts of the Intermountain West. The front along with some intrusions of Pacific moisture will bring a threat for showers, including some accumulating snowfall for the higher elevations of the Washington Cascades and the Northern Rockies. The higher peaks may see locally in excess of 6 inches of new snow by the middle of the week. Some of this moisture will also be influenced by a developing area of low pressure offshore of California which will slowly drop southward and meander off the coast going through the middle of the week. This will bring some light to moderate rainfall into California and may even bring a few inches of snow to the highest elevations of the Sierra Nevada.
Greater New England Area:  Elsewhere, aside from a weak area of low-pressure crossing portions of northern New England and bringing some light snowfall here early this week, the story for the remainder of the nation will be the very mild and dry weather.
General:  Over the next few days, very mild weather will continue across especially areas of the Intermountain West, the Central and Northern Plains, and the Midwest where temperatures will be as much as 15 to 25 degrees above normal.
Industry News
Like being in the know? Get our biweekly Logistics Market Report delivered straight to your inbox. Sign up here.